Managed Print Services
Analyze: systems, process, and people. Translate paper usage into data distribution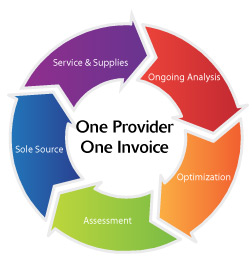 What is Managed Print Services (MPS)?
Technology is changing how we travel, how we navigate the freeways, even how we order pizza. Use our experience to help you navigate the technology changes happening in the office today. Work isn't a place anymore. Work is a measurable result produced. Technology has created incredible efficiencies. Now people work from home, share business intelligence in the cloud. It is our job to keep our clients: secure, redundant, and collaborative, so that you can get your work done at the speed of business. Our Managed Print Services program is the first step in leveraging a platform that gives you visibility to what your printers are doing and the behaviors of what your employees are doing. Once we understand how your employees are distributing data through paper, we can start asking, "Could there be a better way to distribute private data through your systems, and not through paper.
Managed Print Services Opportunities
If you use our tools and technology to gain visibility to the metrics of your printing, you can then control and manage it.
If you can see where key departments are printing, you can see how work flows through your business.
Our experts can strategically place the right products, in the right places, for the right people.
Manage cost on printing consumables, service, and your cost-per-page.
Reduce your environmental impact by ordering the supplies when you need them.
For more mission-critical tasks rather than installing, supporting and maintaining print devices.
Ensure device efficiency through remote maintenance and lifecycle management.
Control and Forecast Budgets Accurately by setting your printing and supply costs up-front.